HEAD & SHOULDERS FOR MEN WINACTIE!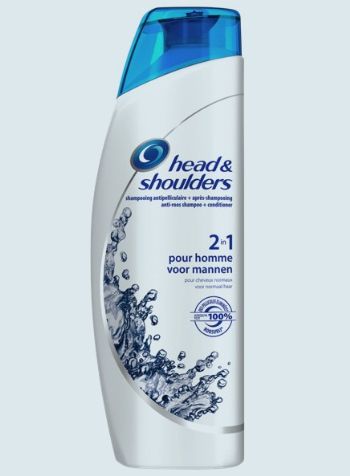 Onlangs werd ik benaderd door Head & Shoulders of ik interesse had om een winactie op te zetten. Het gaat hierbij om hun nieuwe H&S 2-1 Shampoo for Men; een shampoo die mannen veel tijd zal doen besparen. Op jaarbasis scheelt je dit wel zo'n 22 uur. Ik mag 3 winnaars gaan selecteren die een half jaar lang GRATIS! deze shampoo mogen ontvangen om hem zelf uit te proberen. Dat komt uit op zo'n 6 flacons per winnaar. Wil je hiervoor in aanmerking komen lees dan snel verder…
De actieve Nederlandse man wast gemiddeld 5 keer per week zijn haar. Veelal ook na het sporten. Waarbij het gebruik van een aparte conditioner zo'n 5 extra doucheminuten kost. Uitgerekend komt dat neer op 25 minuten per week en op 1300 minuten per jaar. Oftewel 22 uur waarin je een heleboel andere mannendingen zou kunnen doen. Als alle conditioner gebruikende mannen in Nederland (bijna zo'n 3 miljoen) voor H&S 2-1 Shampoo for Men zouden kiezen dan spreek je al snel over 2,7 miljoen vrije dagen. Tel daar nog eens bij op een roosvrije en subliem verzorgde haardos. En dit alles voor een simpele investering van nog geen 5 euro.
Al deze vrije tijd krijg je simpel en eenvoudig als je van HEAD & SHOULDERS de nieuwste haarverzorgingsproducten gebruikt: H&S 2-1 for Men en H&S 2-1 Mentol Fresh. Beide shampoos besparen je niet alleen de moeite naar het zoeken van een goede conditioner. Ook zorgt het ervoor dat je minder lang onder de douche hoeft te staan om zo de conditioner (na het haarwassen) zijn werk te laten doen. Deze 2 nieuwe H&S 2-1 shampoos bevatten overigens tot 40% meer verzorgende ingrediënten. Niet alleen was je jouw haar ermee maar gelijktijdig geeft de shampoo jouw haar een excellente verzorging. Maar de allerbelangrijkste benefit van deze shampoo is toch wel dat een klinische studie heeft bewezen dat deze formule zichtbare roos tot 100% verwijdert of doet voorkomen.
Wil je in aanmerking komen op een half jaar lang gratis de H&S 2-1 Shampoo for Men? Mail me dan wat je zou doen met die extra vrije tijd die je bespaart als je deze shampoo gebruikt. Wat zou je het liefste met die bijna 24 uur extra tijd doen? Mail je motivatie en adresgegevens naar: Dit e-mailadres wordt beschermd tegen spambots. JavaScript moet zijn geactiveerd om het te bekijken.